Whether you're decorating for a newborn, a toddler or a tween, it's time to think outside the box. Forget cutesy prints and Disney characters and create a child's bedroom that combines something for the kids with adult style. Take a look at these inspired ideas:
1. COMBINE CHILDREN'S PRINTS WITH ADULT PLAINS
By combining the beautiful textures of velvet and soft linen-like fabrics with colourful green zig-zags and a sophisticated Elephant print you get the best of both worlds. Give your little one a cute bedroom with a sophisticated finish. Take a look at the story we created below:
Change it up by combining modern geometrics, pops of colour and a fun African print to create a sophisticated bedroom that is modern and stylish with a pop of kiddie flair!
SOUTHBANK SHOREDITCH MANGO
PLAYTIME GEOFFREY GIRAFFE
2. PINK & GREY
Grey and soft dusty pinks is a fabulous alternative to jarring fuscias and the candy-sweet pink tones usually associated with a girl's room. Take a look at this soft pink and grey inspiration and learn how to get the look using velvet scatter cushions from collection Velour.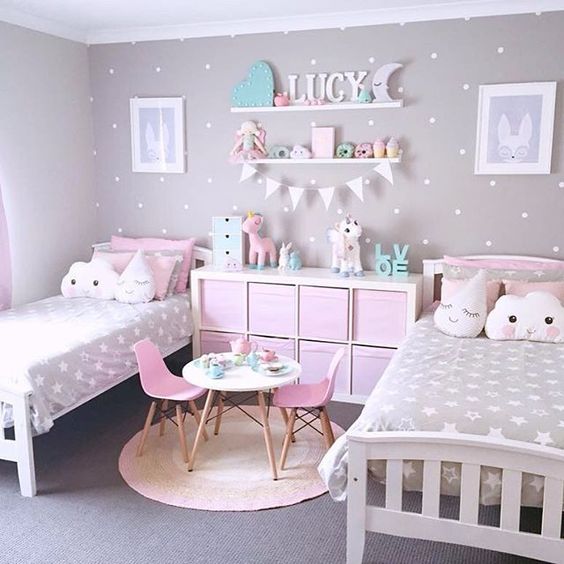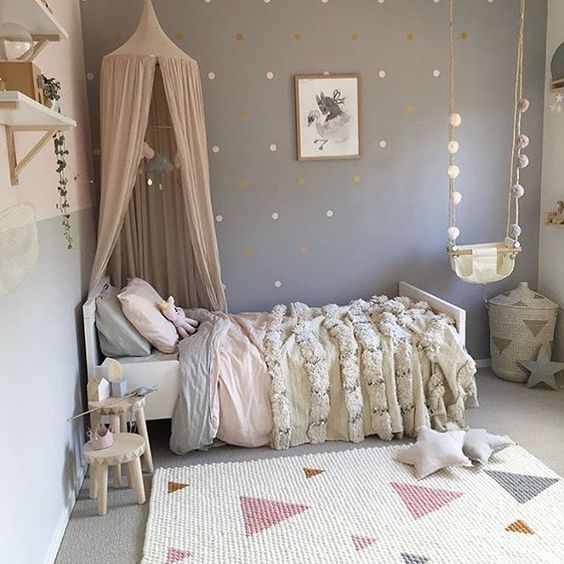 3. BLUE, WHITE & GREY
A blue, white and grey bedroom is a sophisticated and timeless look that will only need a few touch ups as the years go by.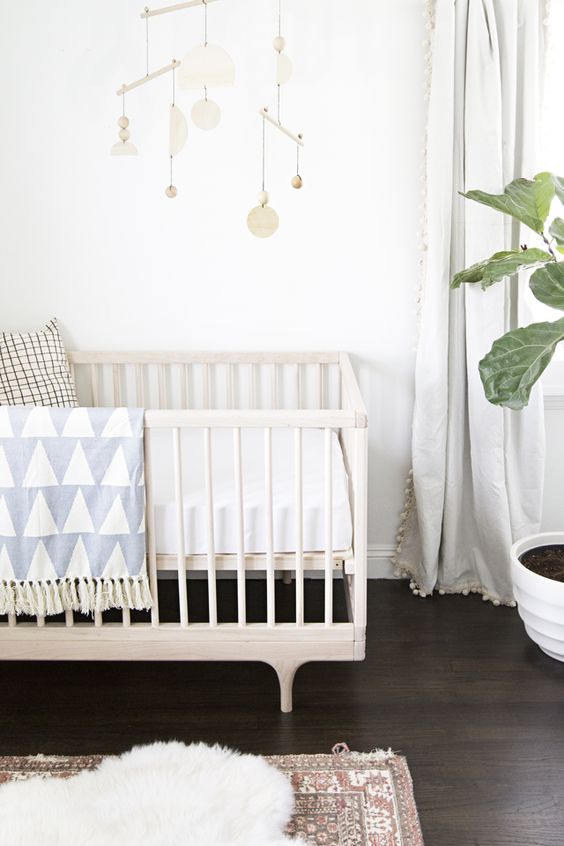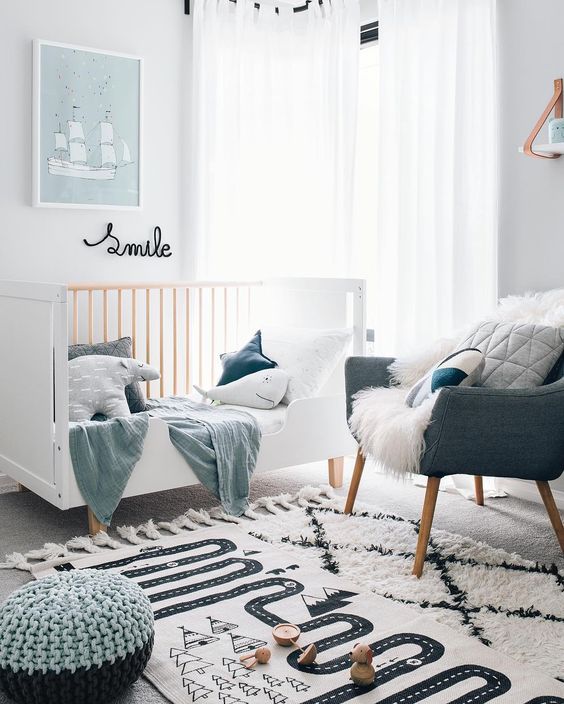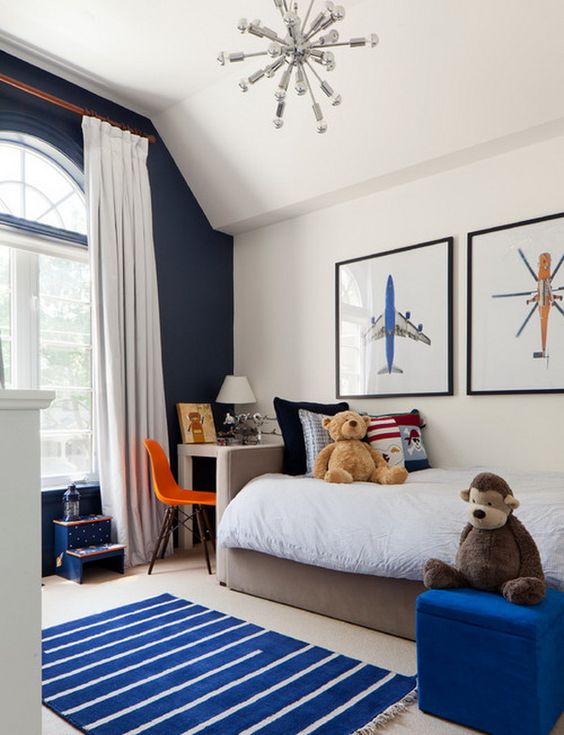 4. CRAZY ABOUT POLKA DOTS
Using colourful polka dots in a kiddies room is the perfect way to bring pops of colour to a neutral colour palette. Polka dot prints are a classic option for creating a subtle, playful feeling without committing to a particular character or theme.
Bunting is an easy way to add fun and colour to a room. Get the look with collection Playtime.
5. CLEVER ACCESSORIES
Using accessories to personalise a bedroom for your child is the perfect way to bring colour and fun into a room without going overboard. Some cute scatters and a bright lampshade can go a long way.
6. GREY & WHITE
Monotone decor in varying shades of grey, black and white can create a beautiful gender-neutral space that's modern and sophisticated. This looks works well when combined with geometric prints and textured plains. This look will last from baby way into the tween years with only minor updates:
Use wallpaper collection Studio to achieve this look in your little one's bedroom.
FABRICS USED IN THIS LOOK:
WALLPAPER TO CREATE THIS LOOK:
8. CUSTOMIZE IT
Kiddies bedding options can hinder your overall look as you're limited to the characters, prints and colours that are available in-store. Why not customise and open up your options to create the unique bed linen you need to finish off your space?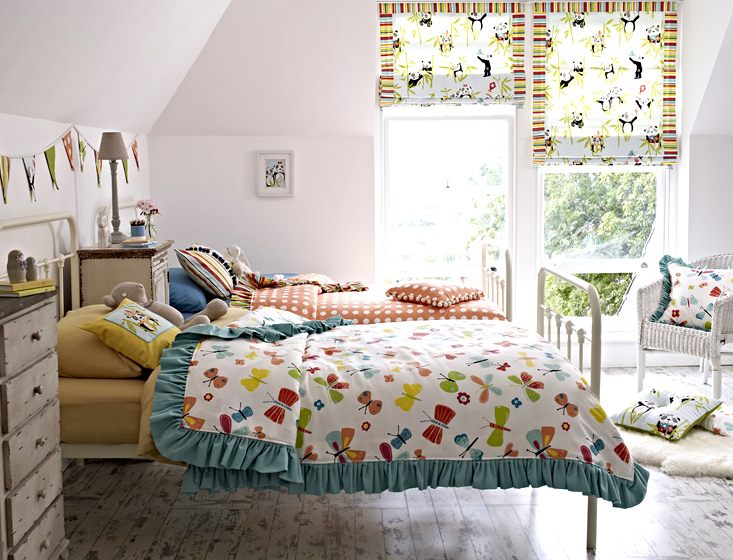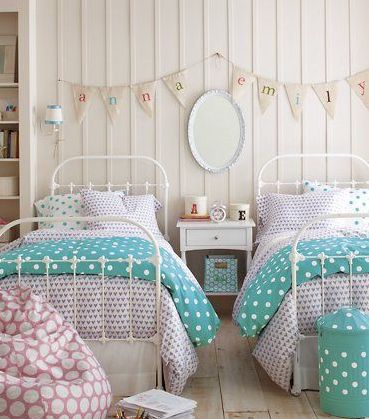 INTERESTED IN VIEWING ANY OF THE FABRICS FROM THIS ARTICLE?
YOU MAY ALSO BE INTERESTED IN READING: