A kitchen is often the main focal point of a house - we entertain, eat and channel our inner Gordon Ramsay in this versatile room, and with the onslaught of open plan living, there's nowhere to hide. So what do you do if this room is lacking on space? One thing's for certain, you don't have to compromise on big style in a small space.
We have found some decor inspiration for kitchens that are a little on the small side to make your small space count in a big way.
OPEN SHELVING:
A big problem in a small kitchen is storage and finding a place for everything. We all know that cupboards hide the mess, , but cupboards take up space that you may not have. Open shelving creates the illusion of space whilst giving you a trendy finish. Remember to merchandise your goodies, and your dishes will become part of your decor. Practical & stylish!
TOPTIP: Mix it up a little and use a combination of closed cupboards and open shelves. Use the cupboards to store spices and dry goods while using the open shelves to display your prettiest pieces.
KISS - KEEP IT SIMPLE SILLY:
To be big on style doesn't always mean you have to be big on colour. Keeping your colour scheme simple and monochromatic will allow more light into your kitchen and give the illusion of a bigger space. You can also pair your serene monochromatic kitchen with matching furnishings of the same palette to complete this chic, timeless look.
BE A LITTLE DARING, DARLING:
If the monochromatic colour scheme is a little too tame for you, bring a pop of colour into your kitchen after you have checked off the basics - it's time to have some fun! Bring cheer and colour into a small space with either paint or a colourful backsplash. You can even extend the colour to the surrounding area, which also creates the illusion of a bigger space.
HANG IT HIGH HONEY:
In a small space you want to avoid clutter and give yourself more room to work, maybe even fit in that little breakfast table. Hanging your pots and pans from a ceiling rail will give you extra space and easy access. By hanging your pots and pans from the ceiling you help define the area.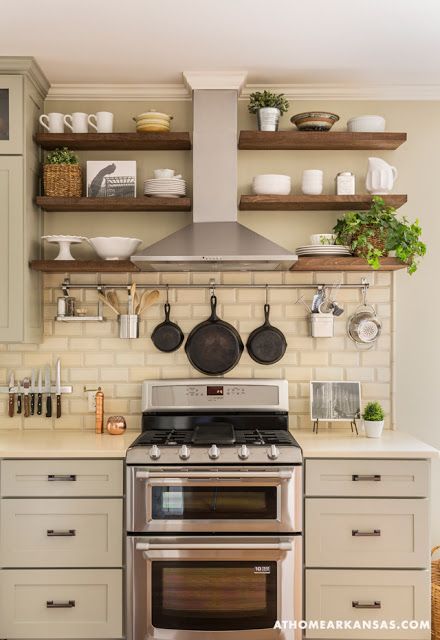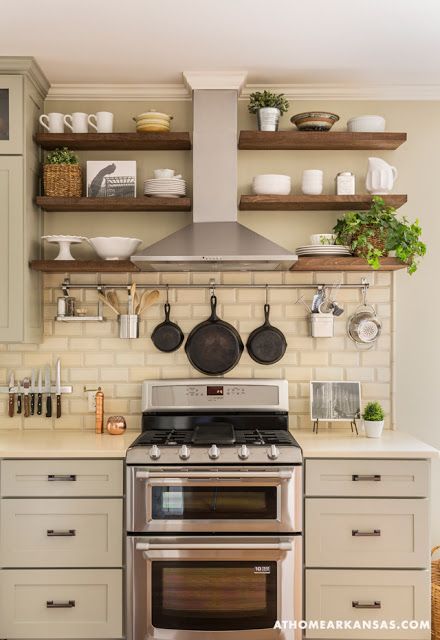 USE WALLPAPER FOR A TRENDY LOOK:
Wallpaper is making a comeback in a big way so it makes perfect sense to incorporate it in your kitchen for big style. Cover one wall in wallpaper as a feature and instantly your space has been transformed, it really is that easy!
GET THE LOOK: Use wallpaper to create a feature wall in your kitchen to add some colour and fun. We have used SG Fabrics Studio wallpaper in this kitchen. It has some great options in smaller geometric prints, perfect for those smaller spaces!
Have a squizz at some of the other designs and colourways from Studio or view the full collection here.
COVER EVERY INCH:
Now that we have sorted out the basics you may be left with some extra space, this is the time to really bring your personality and flair into your kitchen. Think about customising a window to add something different to a room or bring some artwork into the kitchen. These simple touches take attention away from the size of your kitchen and focus attention on details that pop.
And there you have it, dynamite style for even the smallest kitchen!
YOU MAY ALSO BE INTERESTED IN READING: